History of Masahiro Knives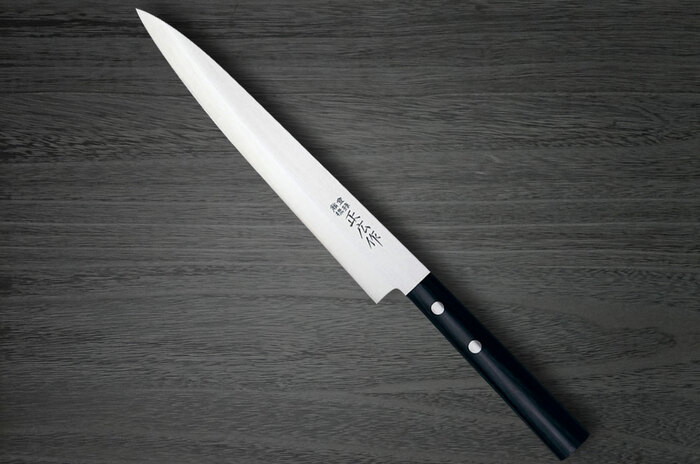 As Japanese knives play important roles in determining the tastes of authentic Japanese dishes through perfect slices and accurate chops they make, Japanese food culinary experts and head chefs are always in the search for just the best knife models to work with.
Masahiro is one of the most prestigious knife brands in Japan. The company was founded 70 years ago and is located in Seki City, where it manufactures up to 200,000 knives per year. Masahiro is vertically integrated and handles all manufacturing, including blade-edging, hardening, and handle production. The knives are all handmade, come in a wide variety of options for household or industrial use, and are famously known for its excellent sharpness and design. Masahiro produces a series of knives known as their Pure Carbon Series, which utilizes carbon steel blades. Additionally, they produce two other series known as MV and MV-H, which are made with high carbon stainless steel, with the latter being their top-of-line range and best suited for light work in the kitchen.
This then answers questions upon why Masahiro knives are widely-used among professionals and specifically, Japanese food chefs.
How to make Masahiro Knives
As opposed to most knives which have 50/50 edges, Masahiro knives are famously known for its 80/20 asymmetrical edges. 80/20 asymmetrical knives are 35% lighter, feature a mirror finish, and 80 percent of the edge is ground to the right, while the other 20 percent is ground to the left. The knives are designed with one side of the blade flat and the other side beveled to the edge. On the MV-H Series, the 80 percent side is only 1/8'' high as compared to 3/4'' on a traditional Japanese knife. This unique design results in an extremely light, well-balanced knife that features smoother action, putting all the pressure on the item being cut rather than against your hand.
As the name suggests, Masahiro's Pure Carbon Series knives are made of virgin carbon steel.These knives aren't as practical as regular stainless steel knives, and they're also higher maintenance, however they're sharper than most knives and are also easier to sharpen due to the carbon steel. The knives are hard and feature a 59-60 HRC rating. These knives are perfect for knife purists who take pride in keeping their knives in excellent condition through regular maintenance and enjoy using sharpening stones. Over time, these knives will develop a patina similar to cast iron cookware and if they darken, don't be surprised. The knives can also rust if not dried properly after washing, however any rust can be easily removed with metal cleaners. The handles of these knives are riveted and made of laminated wood, which is comprised of thin layers of stained black wood pressed in with a sheet of matte polycarbide.
Masahiro's MV and MV-H Series knives are made using the same high carbon stainless steel, known as MBS-26. MBS-26 is solid stainless steel and is made exclusively for Masahiro. This steel is similar to the VG-10 stainless steel which is made in Japan. MBS-26 stainless steel goes through three stages of quenching, sub-zero treating, and tempering until the steel reaches a hardness rating of 58-60 HRC, making the MV and MV-H Series knives among the hardest knives you can buy. The MV Series handles are made of laminated wood and are riveted and feature a full tang. The laminate is comprised of thin layers of stained black wood pressed in with a sheet of matte polycarbide. MV Series knives are heavier than MV-H Series knives, making them more appropriate for heavy duty use.
Features of Masahiro Knives
MV-H Series handles are extremely durable and made of resin that is heat, moisture, and solvent resistant.These handles are much more practical and last longer than generic laminated wood handles, and they're also bacteria resistant making them very hygienic and convenient for everyday use. The handles feature a three-rivet design and has a wide tang, almost as wide as the handle itself which provides plenty of room for the rivets and results in a smooth, rounded handle that feels great when gripped. MV-H Series knives are lighter than MV Series knives.
Masahiro knives are high-quality and sold at an affordable price. The knives are sold worldwide, and they feature knives for a wide range of uses, including household and commercial. If you're looking for a lightweight or heavy-duty knife that is well-balanced, look no further than Masahiro.